4 Valuable Tools NURSING.com Has to Help You Prepare for NextGen NOW
📚 Reliable content & successfully proven teaching methods
❓❔ 6,500+ NCLEX® Practice Questions
📝 NextGen SIMCLEX® (NCLEX® simulator)
Content:
All of our content is created and methodically reviewed before being pushed live by practicing nurses. Why should this matter?
Because they have first hand knowledge of WHAT you need to know to be the safest, most competent, nurse that you can be. They just treated a patient yesterday that had xyz and they know how to care for that patient in the best way possible.
So even without an updated NSCBN test plan, you can count on our content to provide you with the MOST important information to be a great NEW nurse.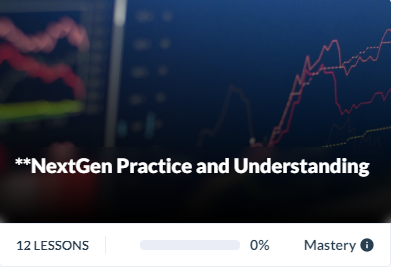 👆 Check out our NextGen Practice and Understanding Course! 👆
Teaching Methods:
Besides getting reliable content, we teach the WHY behind the WHAT, and this is essential for critical thinking. You can't apply what you don't understand AND you can't just memorize it!
We are also multi-modal which means that we teach using different methods that can help the knowledge sink in more thoroughly and can help you more easily recall what you know.
Are you a visual person? 👀 We have cheatsheets and images to help you picture the pieces together in your mind and our Educators teach our Lesson Videos on whiteboards so they're drawing and writing during the Lesson Video to help you keep focused!
Do you learn more by listening? 👂 You can listen to our Lesson Videos on the go with our NURSING.com app and we have podcasts too!
Do you need a hardcopy book in order to learn best? 📚 We have books, too! Click here!
NCLEX Practice Questions
All of our questions are written and edited by NCSBN trained question writers - who better to get question practice from than from an Educator trained by the organization who creates the NCLEX®? 🔥
NextGen SIMCLEX®
SIMCLEX® is the world's most accurate NCLEX® Simulator! It's a computer adaptive testing software (CAT) NCLEX® simulation. Our patented software is designed to create an adaptive testing setting which means that you never get the same test twice. In fact, no two users will ever get the same test . . . it literally adapts to you as you take the test.